We built Finagraph to really take advantage of the digital presentation and recommend that the best way to share a Finagraph with someone is to use the "Get Sharable Link" feature. This allows you to send a link to a fully interactive Finagraph to someone without them needing to log in. They will have the benefits of the hover-help with ratio definitions, and industry averages, as well as access to the expanded calculations and financial details (Balance Sheets & Income Statements). When the Finagraph is saved as a static PDF, users miss out on all the built in features.
If you would like to dash off a quick snapshot of your report, Finagraph integrates directly with the print function of your internet browser. We recommend using Google Chrome when printing. Chrome offers expanded functionality such as printing to a pdf file and adjusting margins. Simply right-click anywhere on the page and choose the "Print" option.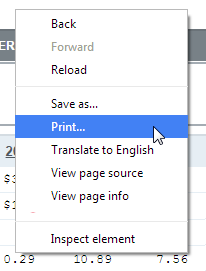 To only print a portion of your Finagraph, highlight the area you want to print and then right click on the highlighted portion.