By default, the values in your Finagraph are compared to performance indicators in your industry. Ratios and KPIs will be flagged red or green depending on if your business is above or below average. There are two ways to customize the flags that appear on your Finagraph.
Note, that any changes made on the Customize Flags form will be used for all Finagraphs created for this business (past, present, & future). All flags are calculated at the time that you view the Finagraph, based on the current settings for the business which are defined here.
Start by clicking the CUSTOMIZE FLAGS button in the option list.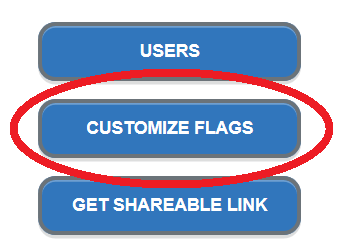 The Customize Flags window is split into two sections. The top section is enabled automatically when a NAICS code is entered for the business. The green check mark indicates that this Finagraph is already using industry data for the standard comparison flags. If you do not want to compare to industry data, click the green box to disable the industry comparison.
Your Finagraph defaults to the industry data for the sales range your business falls under. To compare the business to industry data from larger or smaller businesses, select the appropriate sales range; only ranges for which data is available are displayed in the list.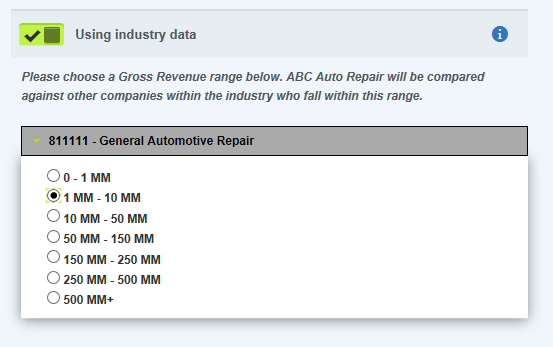 The bottom section allows you to set your own triggers for certain ratios and KPIs. Click the button to enable this feature. When enabled, your custom flags could trigger warning flags for the business even if its numbers are better than industry averages. Use this feature to flag potential problem areas for this specific business or customize the cash impact calculations for specific 'What If' scenarios. Any field left blank will simply be compared to the industry averages (if still enabled).