Our goal is for users to create a Finagraph with just a few clicks of the mouse. Currently that's possible with some major accounting packages such as QuickBooks and Xero, but we know that doesn't cover everyone. Until we have fully integrated with your chosen accounting software, we offer the option to create a Finagraph with a simple Excel template.
When you select your accounting system, choose the button with the Excel logo.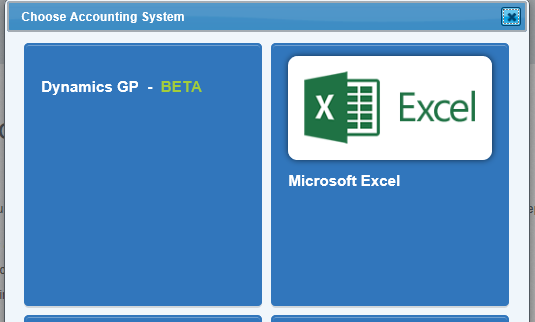 There will be a link on the Collecting Financial Data page to download the latest version of the Excel template. If you want to get an early start, download the file below.
This template is designed to combine the most common categories from a Balance Sheet and Income Statement. You can modify the template using the guidelines below (also repeated on the second tab of the spreadsheet).
Here's how to get started:
The black line separates the data portion from the notes area.

The data for your Finagraph is pulled from the columns to the left of the black line.
You may delete the instructions and add notes or descriptions to the right of the Black Line.

First specify in row 5 if the entries are actual values or are abbreviated in thousands or millions.
Use one column (left of the black line) per reporting period.

Indicate the period size in row 9 (Month, Quarter, Year).
Specify the ending date for the period in row 10.

You may insert additional Columns for more time periods as needed.

Right-click on the header for the black line (e.g. E) and select "Insert".
You may add as many columns as you'd like though our recommendation for the best view is no more than five per period size (e.g. 5 months, 5 quarters, 5 years).

Important Note:

If you leave the left most column of values blank you must shift the other columns over. You will receive a timeout error if the first values column is blank. All other columns may be left blank.

Incorrect:
Correct:

You may leave rows blank if they are not used in your reports but do not add additional rows without consulting with Finagraph support first.
Please use the "Submit a request" link in the upper right if you have any questions or concerns.