If you're experiencing trouble running the FinancialLink application, it may be useful for Finagraph Support to review the session logs from your browser. There are two ways to collect this information.
FiddlerCap
The Preferred method is through the FiddlerCap tool from Telerik.com. You can download the tool here.
At the bottom of the page is a step-by-step guide to collecting the Fiddler logs and sending them to your "debugging buddy" at Finagraph Support.
Note: Since all of the communication with the FinancialLink is securely encrypted you will need to enable the "Decrypt HTTPS traffic" option in FiddlerCap. Before you start the recording session, be sure to check the box for "Decrypt HTTPS traffic" - see below.
 After you enable this option, your browser will display an alert that it doesn't recognize the security certificate. While normally this error would be a concern, in this case it's safe to ignore. FiddlerCap is a popular trustworthy tool. Once you stop recording the error will clear and the page will return to normal.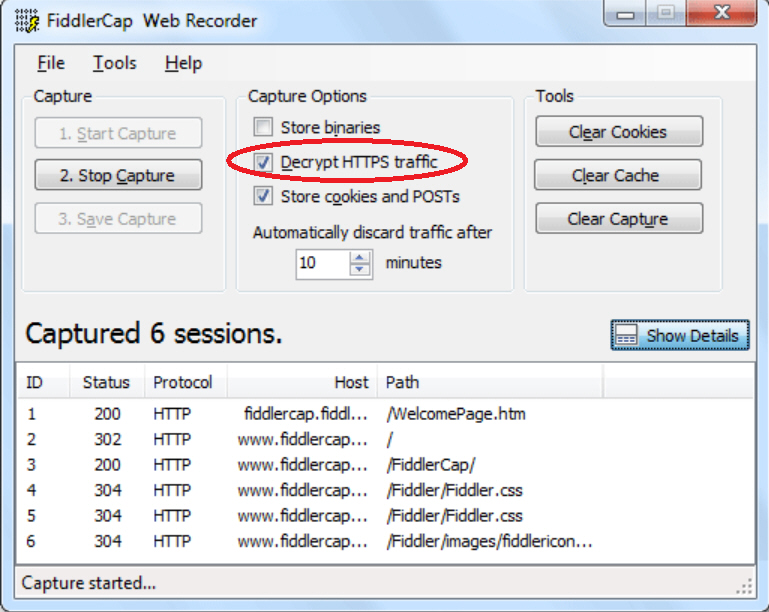 HAR File Logs from the browser Developer Tools
If FiddlerCap is not an option for you, session logs can be collected directly from your web browser. This guide covers the steps from Google Chrome.
Start by opening the Developer Tools section of Google Chrome. Either press F12 on your keyboard or you can find it in options menu under More Tools > Developer Tools.

Once open, select the Network tab and perform the steps that Finagraph Support is assisting with (for example, creating a new Finagraph). You'll see the network section of Developer Tools populate with detailed information.

Once you have reproduced the issue you are investigating, right click anywhere in the Developer Tools pane and select Save As HAR with Content.

Find where you saved that HAR file and then email it to Finagraph Support or attach it to an existing HelpCenter ticket.